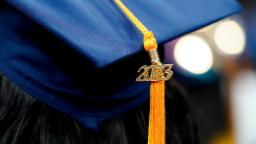 Washington
CNN
 — 

In October, tens of millions of borrowers will be required to pay their monthly federal student loan bills for the first time since March 2020, the Department of Education clarified Monday.
The pandemic-related pause on both payments and interest accumulation has been set to end later this summer, though the exact date payments would be due was a little fuzzy.
The Biden administration had previously said that the pause would end either 60 days after June 30 or 60 days after the Supreme Court rules on the separate student loan forgiveness program – whichever comes first.
A law passed in early June to address the debt ceiling officially prevented the pandemic-related pause from being extended again. The repayment date has been extended a total of eight times under both the Biden and Trump administrations.
"Student loan interest will resume starting on September 1, 2023, and payments will be due starting in October. We will notify borrowers well before payments restart," the Department of Education said in a statement sent to CNN Monday.
The update was first reported by Politico.
Borrowers typically receive their bill statements from their loan servicer a few weeks before they are due. Not every borrower's bill is due at the same time of the month.
The Department of Education has said that it will be in direct communication with borrowers and ramp up its communication with student loan servicers before repayment resumes.
Student loan experts recommend that borrowers reach out to their student loan servicer with any questions about their loans as soon as possible, especially if they are interested in enrolling in an income-driven repayment plan. Those plans, which set payments based on income and family size, can lower monthly payments but require borrowers to submit some paperwork.
Federal student loan borrowers can check the Federal Student Aid website for updates on resuming payments.
Some borrowers may struggle to resume paying their monthly student loan bills.
More student loan borrowers are currently behind on other kinds of bills than they were before the Covid-19 pandemic, according to a recent study by the Consumer Financial Protection Bureau.
The report also said that about 1 in 5 student loan borrowers have risk factors that suggest they could struggle when scheduled payments resume, like being delinquent on student loan payments before the pandemic or having multiple student loan servicers.
When payments restart, many people might be confused about how much they owe, when to pay and how. Millions of borrowers will have a different servicer handling their student loans since the last time they made a payment.
Originally, the pause on federal student loan payments was put in place to help borrowers struggling financially due to the pandemic.
From a jobs perspective, the economy has largely recovered from the pandemic-related disruptions. In May, 3.7 million more people were working than in February 2020.
But there are some soft spots. Major layoffs have recently been announced at big companies like Disney and Amazon. Earlier this year, a regional banking crisis was set off by the collapse of Silicon Valley Bank, the largest bank to fail since the 2008 financial crisis. And inflation remains high but is cooling after reaching a 40-year peak last year.
Meanwhile, all eyes are on the Supreme Court as borrowers wait to see if the Biden administration will be allowed to move forward with its student loan forgiveness program. A decision is expected in late June or early July.
Under the proposal, individual borrowers who made less than $125,000 in either 2020 or 2021 and married couples or heads of households who made less than $250,000 a year could see up to $10,000 of their federal student loan debt forgiven.
If a qualifying borrower also received a federal Pell grant while enrolled in college, the individual is eligible for up to $20,000 of debt forgiveness.
But several lawsuits argue that the Biden administration is abusing its power and using the pandemic as a pretext for fulfilling the president's campaign pledge to cancel student debt.
No debt has been canceled yet. But if the Supreme Court allows the program to take effect, it's possible the government moves quickly to forgive the debts of 16 million borrowers who the administration already approved for relief.
If the justices strike down Biden's student loan forgiveness program, it could be possible for the administration to make some modifications to the policy and try again – though that process could take months.